Precision parts
for blister packaging system
We manufacture complete sets of formats from your tablet specimen and supply format sheets and complete sets of drawings.
The production of your parts is realized on an individual basis and is independent of the manufacturer (e.g. blister packaging systems by Uhlmann, Bosch, Noack, Klöeckner or IMA).

More than 25 years of experience and know-how in the fields of construction and production of sets of blister formats are a guarantee for a high level of precision and quality you can rely on.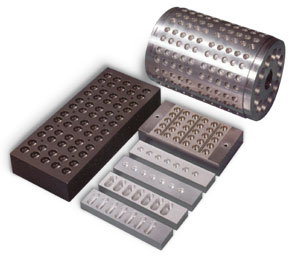 Dosing plates | Brush boxes | Table feeders
Sealing rollers | Converying rollers | Blow moulding plates